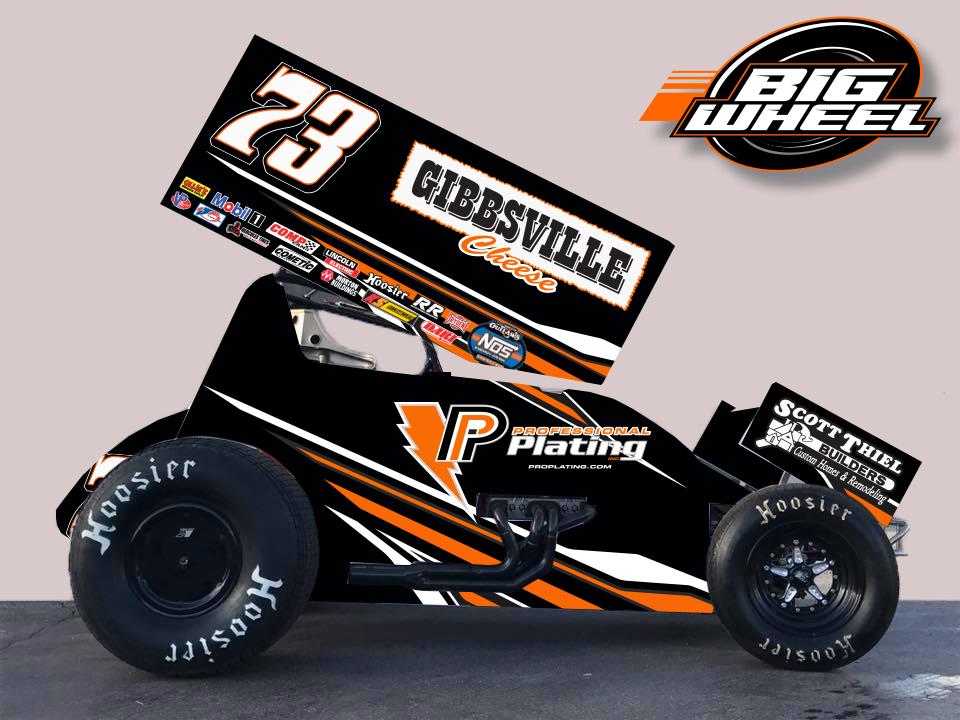 ---
Big Wheel has Big Plans in 2021!
[FOR IMMEDIATE RELEASE] - 12/17/20 - (Sheboygan, WI); Scotty Thiel will have a new look coming into the 2021 race season as he inked a deal with the pairing of STM and Ozzie Motorsports. The new partnership will be competing full time with the Bumper to Bumper IRA Sprint Car Series to chase a championship, along with competing at various World of Outlaw and Allstar Circuit of Champions events as their schedule allows.
The 2020 race season for Scotty Thiel and his race team was simply summed up as "trying." The team found speed all season long but came up short to park the 64 car in Victory Lane. A few high notes of the year was setting Quick Time with the World of Outlaws at the Jackson Motorplex in June, a couple dash's with WoO at Federated Auto Parts Raceway at I-55 and the Wilmot Raceway. The team was faced with some struggles late in the year with three DNF's in a row. The low point of the season and a collapse of energy and drive with Scotty and his team. The team finished off the season with two podium finishes in Illinois and Missouri before heading back home to begin a much needed offseason. However, a new spark of energy came along after a call from Ozzie and Fran of Ozzie Motorsports. After several meetings, the pair reached an agreement to create one ultimate race program for 2021!
Already starting to build up equipment, the team will start the race season at Screven Motor Speedway in Sylvania, GA on January 29th and 30th with the Allstar Circuit of Champions followed up by an early week venture to East Bay Raceway Park in Tampa, FL! The 73 team will then turn their focus to run the full Bumper to Bumper IRA Sprint Car Series schedule and chase for a championship. Over the course of the season, they will also plan to attend a good majority of World of Outlaw and Allstar Circuit of Champions events as the schedule allows.
"I honestly didn't see this opportunity coming at all. After we finished out the year in the 64 car, my team and I had some brief talks about doing something different in 2021 and focus on specific events" Thiel noted. "After a couple meetings with Ozzie Motorsports and their sponsors, my team and partners, we all agreed that merging our programs into one stable would create an ultimate force that can tackle both goals and plans we had in mind. So in the end, it's a win-win for both parties. My guys and I were able to run for Oz and Fran last year a few times and we all really clicked. Being able to have them all on board for this coming season will really make this team gel right away."
"We wanted to come out in 2021 stronger than ever and ultimately go win a championship with the IRA" Ozzie explained. "After laying out some options, talking with our sponsors, we decided that Scotty and his team were the right people to team up with and chase that goal. And with that, also be able to go out and travel with these other series and attend some high caliber events."
Keep up to date as the new #73 team continues to prepare for the upcoming season. A full schedule will be released soon on www.scottythiel.com and the Scott Thiel Motorsports Facebook page, soon to have new branding. The team would like to thank their continued support from Gibbsville Cheese, Professional Plating and Scott Thiel Builders who will all be backing the #73 team this season!
Gibbsville Cheese: Gibbsville Cheese is located in the heart of Sheboygan County, Wisconsin, with a rich family history of cheese making for over 65 years! Gibbsville Cheese products are Wisconsin made with only the finest in local ingredients and are proud to offer a large variety of cheeses and cheese made products at our factory store as well as through our online store. We ship across the United States, ensuring you can ship and receive real Wisconsin fresh Gibbsville Cheese at anytime. Check out www.gibbsvillecheese.com!
Professional Plating Inc:
Conveniently located employer in Brillion, WI; Professional Plating has been in business since 1979 with a facility over 200,000 sq. ft. to meet and exceed your expectations of supplying Class A coatings to all sorts of recreational and production customers. PPi serves customers with needs of power coating, zinc plating and e-coating! You can see their work on the web at www.proplating.com or give them a call at 920-756-2153 to discuss your next project!
Scott Thiel Builders:
Since 1985, Sheboygan, Wisconsin based Scott Thiel Builders has been in the new home building and remodeling industry serving clients all over the central lake shore counties of Wisconsin. Our outstanding reputation speaks for itself through our skilled craftsman who strive for perfection to create a masterpiece you have dreamed about. Attention to detail is used in a variety of ways at Scott Thiel Builders because we not only strive to achieve excellence on each project we work on but to also be attentive to our client and make sure they experience the best possible service through the entire building process and the years to follow. Check out what Scott Thiel Builders can provide for you today at www.scottthielbuilders.com!
There are still marketing opportunities available for you and your business! For more information, please email info@sixfourpromotions.com!
---
Article Credit: SixFour Promotions
Submitted By: Scotty Thiel
Article Media
Back to News